Spoilers are here!
The episode 1 of Season 8 premiered on 14th April in the US and 15th April in India.
The episode, named Winter fell, begins with the same old tune but new wooden miniatures where the pieces roll over white & blue from brown, bringing in winter. Elaborate titles in Winterfell castle make way for the upcoming war in the region around the castle.
This leads to the citadel and then kings Landings, where the first time the iron throne takes form.But on to the drama from the season premiere itself.
There were reunions, introductions, dragons, Swords and a little bit of cheese.
The journey to conclusion kicks off with a boy running and making way through the crowd, Arya style from season 1 episode 1, in Winterfell to get a glimpse of the Unsullied and Dothraki entering Winterfell for the first time.
Arya makes way for the boy, as Jon aka Aegon enters with Queen Khaleesi & her 2 dragons by his side.
Renuion of the Starks is hurried through with Bran informing about the wall being broken and Night king riding the dragon.
Flattery doesn't get you anywhere in the North. Sansa greets Danerys with Ned Stark's words "Winterfell is yours, your Grace" welcome to King Robert Baratheon back in season one.
Sansa, like all of the other Northern Lords and Lady Mormont, is sceptical of Daenerys and displeased with Jon's decision to bend the knee and give up his title as King in the North.
The episode makes way clearly to pitch the Stark and Targaryen women against each other, with mistrust on both sides and Dany being smart senses that.
Sansa is probably the new Cersei in Westeros.
Sansa is reunited with Tyrion, they speak about Cersei sending her army to help their cause and she is shocked that he actually believes that his sister would do that.
Perhaps Sansa's below the belt "I used to think you were the cleverest man alive" comment will make him question himself. Sansa is dead right, we know that as Cersei has absolutely no intention of doing such a thing, Sansa also calls into question whether Jon was swayed by his love of Daenerys in his decision to bend the knee. She has learned a lot from the masters of manipulation and deception, Little finger.
Jorah brings Daenerys to meet Sam, the man who cured him of his greyscale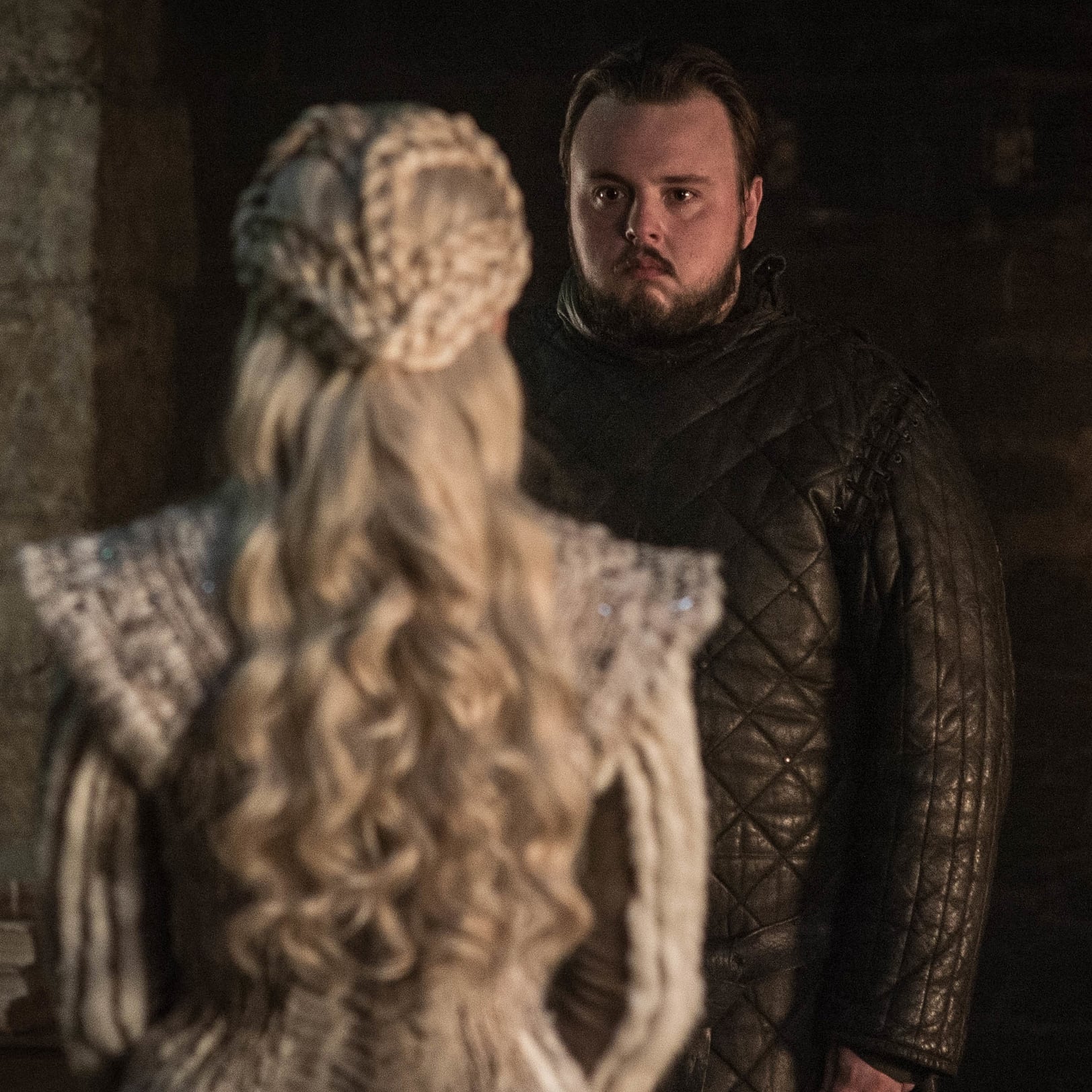 During the episode, Daenerys meets Sam and what started out as a lovely first meeting turns bitter when he learns that she executed both his father and brother as they refused to bend the knee to her.
He later questions Jon on whether he would've shown them mercy had it been his decision. He also reminds Jon that he gave up his crown to save his people, but would she do the same? Doubtful.
Clearly Bending the knee is not getting Mother of Dragons any respect.
Sweetest reunion of the episode, Arya and Jon hug and compare swords – he is moved to see she still has the Needle, he gave her.
There is a touching moment between the siblings. Jon asks her to help with Sansa and Daenerys, but Arya has her loyalties with the starks. She reiterates that the Starks loyalties lie with the Starks and Jon is one too. Laying base to make Jon question his sides when the right time comes.
Arya is reunited with key figures from her past with Arya coming face to face with The Hound and Gendry again. She has a special weapon request from Gendry too.
The reunions were really well done; there was warmth, emotion, humour, and Surprise
For me the mother of all reunions was: Bran meets Jaime at the episode's close, the old friend he had been waiting for. Because it all began with them in season 1 episode 1,
when Jaime pushed Bran from the tower when he had seen something he should have not. Possibly an indication that Bran will see things and we did not read it back then.
Jon and Daenerys go on a dragon date. It felt a bit cheesy to have a big romantic kiss by a waterfall thrown in the mix. The protective looks from her dragons was also a bit of an odd. It was refreshing to see Jon riding Rhaegar, especially considering his Targaryen bloodline, probably the only thing that the scene established in the minds of the viewer and Tyrion & Varys.
"Never been a Bastard… But the true heir to the Iron Throne"
Words which made me teary-eyed in season 7 are uttered again.. by Sam.
Sam, at the directions of Bran, tells Jon the truth about him being the son of Lyanna Stark and Rhaegar Targaryen, and that his real name is Aegon. Jon is left confused, and in true Jon Snow style, he seeks refuge in Ned Stark's Honor.
The scene focuses on Jon, but I think it could have been better executed.
White Walkers make conquer their first house.
A message from the dead brings us back to the horrors that are coming when Tormund, Beric and co. find the young Lord Umber left for them with body parts of his men placed around him in that familiar shape the Night King has used before.

Another warning sign ?? and another sword to our fancies. The humour about Tormund's blue eyes makes the horror later further scary.
Reunions in North but Introductions in the South
King's Landing Cersei has been busy.
She meets the captain of the Golden Company, an army of sellswords founded by Ser Aegor Rivers, a 'legitimised bastard' of King Aegon IV Targaryen, who was brought to her by Euron Greyjoy.
The Lannister Queen is left annoyed by not receiving elephants in return of the gold. Does she think elephants are her reply to Dany's Dragons?? Errr I don't think so.

She gives in to the private meeting request of Euron after her classic Cersei style banter: " You buy a whore… A queen is earned". Maybe she is too desperate to win and scared that Euron might turn against her if she did not give in to his demands. The scene ends with her drinking again teary-eyed … Miscarriage, as expected by fan theories, has already happened ??
The Queen has sent Bronn to kill Tyrion, with Qyburn handing him a crossbow to do it with as revenge for killing their father, Tywin with one.Finally maybe Bronn rise to honour than gold.
Theon and his remaining Iron Island brothers sneak aboard the ships and rescue Yara. Yara goes back home, but Theon heads North to Winterfell. Probably the words from Jon from last season have left a lasting impact.
It was a good episode with a couple of great scenes, but I had hoped that all six episodes to be like the Winds of Winter or Rains of Castermere – Kinds.
The episode establishes the season neatly making way for the greatest battle of Westeros.
Till then I take leave with finally Winter & Warmth in Westeros.
Promo of second episode –
Tags
POPULAR MATCHES